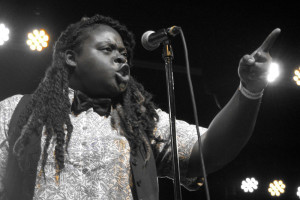 Porsha O
Porsha Olayiwola, aka "Porsha O", is the 2014 Individual World Poetry Slam Champion and the 2015 National Poetry Slam Champion.  Black, poet, dyke-goddess, hip-hop feminist, womanist, friend: Porsha separates herself from the field of issue-based performance poets by applying advanced political analysis to examine injustice while providing perspective on concrete solutions with exciting and accessible language. A native of Chicago, Porsha now resides in Boston where she writes and teaches.
Catherine Belleau-Arsenault
Catherine Belleau-Arsenault is the 2014 Grand Slam Championship of Quebec. Originally from Montreal, she moved to Rimouski, Quebec where she discovered poetry slam that lead her on a magical odyssey to Paris to represent French-speaking Canada at the World Cup of Slam Poetry. When she is not slamming, juggling, swing dancing, and playing Chopin on the piano, Catherine can be found doing a master degree in Town Planning and Regional Development, while working as a liaison agent for a Mental Health organization.
Fannon
Fannon Holland studied theater at Point Park University in Pittsburgh.  Upon graduation his buddies moved out to Chicago and opened up the Backstage Theater Company where Fannon put his writing skills to work.  As a playwright he used spoken word poetry as monologue but never performed outside of the theater context.  That all changed when he moved to Guelph and started slamming. 
Fannon believes that spoken word poetry is the perfect marriage between actor and writer and considers it an honour to be able to share the power and beauty of such a complex art form.  He will not bore you with his accomplishments even though he is positive that you will be impressed but he'd rather just remind you how incredibly good looking and humble he is… but especially good looking.
Erin Dingle
Erin Dingle is a Performance Poet and a Hula Hoop Flow Artist. She was Canada's 2nd ranked Poet at the 2014 Independent Poetry Slam, and was also a National Team Finalist with Calgary at CFSW in 2012. She has been part of 4 Calgary Slam Teams, twice as Calgary's Grand Champion. Erin was part of this year's Victoria Spoken Word Festival All-Star Ensemble, just completed a music track with French Producer Inabeathead, and serves as a board member for Calgary's Ink Spot Collective and for The Single Onion Reading Series.

Erin writes irreverent social philosophy from the pages of her own experience. She explores big issues like cancer, parenthood, mental health and grief with raw honesty, wry humour and big stage energy.  She has a very smart daughter, a very stupid dog, and a weakness for green tea and geekery.  You can find samples of Erin's work on Youtube.
Contact her for bookings at: wordwaver@gmail.com