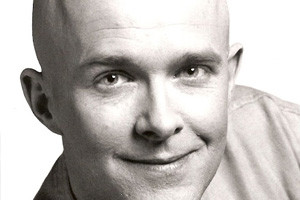 Kim Saltarski
Director / Producer / IF Doppelgänger
When the camera isn't rolling or the keyboard clicking, Kim is also a prolific songwriter, husband of one, fanatic father of two, friend to many, blissed out world traveller, watermelon lover and much more…
Kim's gripping documentaries for NGOs Children International & Plan Canada shot in Benin, Colombia, Peru, Zambia, The Philippines and Ecuador have touched the hearts of millions across North America.  In addition, Kim produced and directed a riveting docu-adventure reality series, "Operation Unplugged" for travel+escape channel that took him racing across Canada's National Parks with 8 techno addicts.
On the comedy flipside, Kim was the executive producer/showrunner on "popcultured with Elvira Kurt" for The Comedy Network. He produced "Out Of Bounds with John Oakley" for Global and produced four "Cream of Comedy" TV specials for The Comedy Network.
In fact Kim has applied his dynamic bald brain to over 400 hours of original animated and live action family, tween, adult comedy, reality and documentary TV programming.  His bevy of broadcasters include: Nickelodeon, CTV, The Comedy Network, YTV, Disney Channel, Global, Discovery Channel, BBC Kids, Cartoon Network, and The Family Channel.  Visit Amazing Ain't It Productions Inc. to learn more about how Kim turns imagination into creation.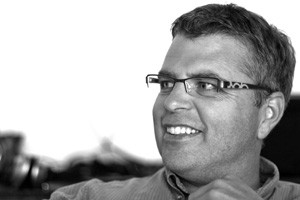 Ted Parkes
Cinematographer / Co-Producer
Ted has a riches of experience directing, producing and lensing everything from industrials and commercials, and on-air promos to TV series and indie features.  But his true passion is being behind the camera. Ted was DOP on "Rich Bride Poor Bride" for Life and "Collector Showdown" Bell Express Vu.  He did second Unit camera for "War of the Wheels" for Global. He contributed to the CBC's "Movie Night in Canada" opening and bumper ads.  He was technical Producer on "Girly Ghost Hunter" on The Space Network, and for the TV sports franchise "All Strength Challenge" which aired on Outdoor Life Network (OLN).  He was also the Cinematographer for independent feature through Litmus Productions "Soul Suitcase".
Ted's work has taken him around the world, 25 countries at last count. Destinations including Guatemala, Peru, Mexico, Europe, Russia, Africa as well as many Canadian, US and Caribbean locales.  He and Kim are Westoverian brothers.
Joe Deagnon – Chicken Outfit Media
Web Design
Chicken Outfit Media is an accomplished digital design company with a focus on online & print publishing. Owner Joe Deagnon is a writer, cartoonist and published author with over twenty years of experience in conceptualizing, developing and executing online & print media.
Working with companies such as CBS International, Alliance Films (eOne), D Films and Sony Music Canada, as well as contributing to national magazines such as Film Threat, Weng's Chop and Exclaim, Chicken Outfit Media has the talent and resources to help your business or publication create effective online & print media by developing marketing and advertising strategies for independent and corporate properties.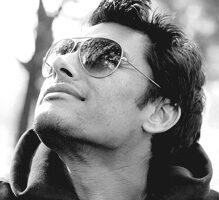 Vikram Dasgupta – Pixell Pallete Inc.
Graphic Design
"Vikram was born in New Delhi, India in 1977 into a family of artists, musicians, dancers and scientists & yet his biggest influence was his grandmother's story-telling. He founded Pixel Palette Inc in 2004 – a design studio that specialized in telling design stories through motion graphics, animation, visual effects and live-action production. Vikram since then has worked as a creative director and director in Film and TV, including working with Indian musical genius AR Rahman of 'Slumdog Millionaire' fame on multiple occasions.
Vikram's most recent narrative, the multi award winning film 'Calcutta Taxi', funded by CTV's Bravofact and National Film Board of Canada was in consideration for the Academy Awards 2014 in the Short Narrative Drama Category. Vikram works out of Toronto and lives solely to breathe emotion, sensitivity and humour into every project he undertakes irrespective of its medium."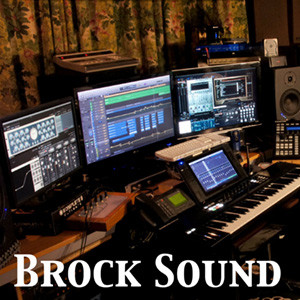 Brock Fricker – Brock Sound Productions
Sound Mix & Composer
Brock Fricker contributed orginal music and the audio post production/sound mix on the bravo factual short version of 'IF The Poet'. Brock is a professional audio engineer and record producer with 44 years of experience, and numerous top ten music credits.  He is also an accomplished music composer / arranger / vocalist / recording artist, and a video producer / director / editor.  He owns and operates Brock Sound Productions, Dreamscape Video Productions, and 10 other entertainment related companies.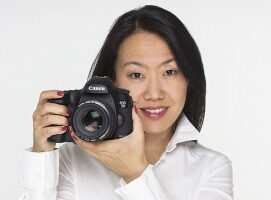 Helen Suk
Commercial Photography
Helen Suk is a freelance writer and photographer about all things travel, food and her hometown of Toronto. A passionate explorer in search of beauty and inspiration, she documents her journeys on her blog, Not Without My Passport.  IF is my former colleague and working with him always made for interesting days, but IF in his natural element, on stage? Now that is powerful, a tour de force I knew just had to be captured.
"Not Without My Passport"
http://www.notwithoutmypassport.com